the evil remain in the cities or they are dead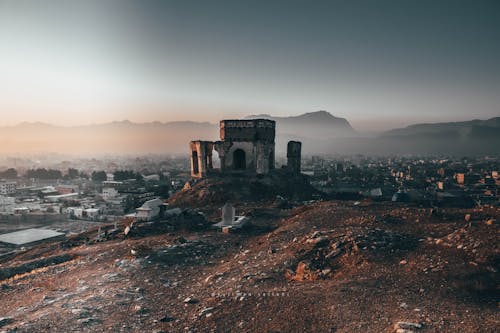 What will the world of tomorrow be like? Tamara Hidal Goisern provides very interesting food for thought in 'Cities are Like Deserts'. Tamara is from Spain and is currently studying English in Edinburgh. She is very passionate about language, literature and poetry. We thank Tamara very much for her vivid and thoughtful contribution to both the competition and the 'Voices' poetry blog.
Cities Are Like Deserts

Then, you also have the theme of shopping.
People love shopping. But by internet. Because they live in villages – now everybody lives in villages. There are not many people in the cities. In the news, you can see how everything is turned into ruins. Bus stops, trains, shopping centres… Only the small shops, inns, parks, and some squares and cinemas survive. But there are more and more people on the outskirts every day.

And they also say, there is not enough land for everyone, so we have to come back to the cities. But how do they want us to live there if there is nothing to do anymore? Every day smells worse and worse, and the few people who are still there are crazier and crazier. Old age, stress, suicide, and the ones who leave for the outskirts – cities are like deserts.

Every day grows hotter and hotter, and the communications are failing. There are no more births and no more doctors to attend them.

But here, in the village, is a wonderful life. Even if there are many people, you walk on the paths and all the cows and sheep gather together. Shepherds are not alone anymore, some of them gather together too, and there are lots of women and children who are starting better lives as well. The food each day gets better, the neighbours help each other in the fields, and they exchange the harvest. There are nurseries for kids, the youngest help the eldest and they learn from them, and the eldest, surrounded by youth, feel better.

But everyone is a bit scared of the city. Of course they lived there when they were younger and were forced to go to schools and breathe the toxic air. Here, we have many trees to climb and play in. Much land where animals are free, because the evil remain in the cities or they are dead. Here, for hundreds of years nothing untoward will happen. Okay… yes… small disputes, arguments, some broken marriages, misfortunes – those kind of things – but nothing else…
Tamara Hidal Goisern, Edinburgh
Did you enjoy this poem? Why not visit Maggie's website at: Maggie's Centre Nottingham to find out more about their exceptional work and/or make a donation.
Do you have a poem you would like to submit to Voices? Feel free to do so by email at: voicespoetry@outlook.com or via the 'Contact' page on this site.